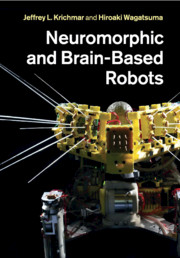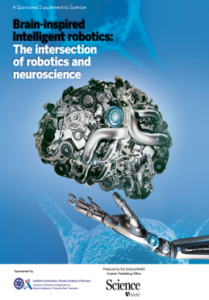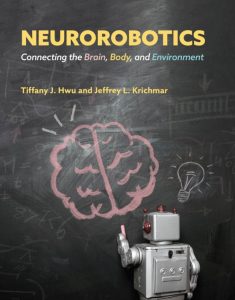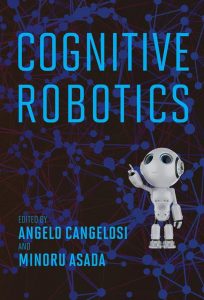 Tiffany J. Hwu and Jeffrey L. Krichmar (2022). Neurorobotics: Connecting the Brain, Body, and Environment. MIT Press
Angelo Cangelosi and Minoru Asada (2022). Cognitive Robotics. MIT Press
Roderic A. Grupen (2022). The Developmental Organization of Robot Behavior. MIT Press
Krichmar, J., & Wagatsuma, H. (Eds.). (2011). Neuromorphic and Brain-Based Robots. Cambridge: Cambridge University Press. doi:10.1017/CBO9780511994838
Sanders, Sean, and Jackie Oberst. "Brain-inspired intelligent robotics: The intersection of robotics and neuroscience." Sci./AAAS (2016): 1-53.
Hong Qiao. "Brain-inspired Intelligent Robotics (类脑智能机器人)". Shanghai Science and Technological Literature Press, 2022.
Steve Furber (ed.), Petrut Bogdan (ed.) (2020), "SpiNNaker: A Spiking Neural Network Architecture", Boston-Delft: now publishers, http://dx.doi.org/10.1561/9781680836523
Michael Milford. Robot Navigation from Nature: Simultaneous Localisation, Mapping, and Path Planning Based on Hippocampal Models. Springer-Verlag Berlin Heidelberg Press, 2008.
Christopher Summerfield. Natural General Intelligence: How understanding the brain can help us build AI. Oxford University Press, 2022.
Dennis Valbjørn Christensen1, Regina Dittmann2, Bernabe Linares-Barranco3, Abu Sebastian4, Manuel Le Gallo5, Andrea Redaelli6, Stefan Slesazeck7, Thomas Mikolajick8, Sabina Spiga9, Stephan Menzel10, Ilia Valov11, Gianluca Milano12, Carlo Ricciardi13, Shi-Jun Liang14, Feng Miao15, Mario Lanza16, Tyler J. Quill17, Scott Tom Keene18, Alberto Salleo17, Julie Grollier19, Danijela Markovic20, Alice Mizrahi20, Peng Yao21, J. Joshua Yang22, Giacomo Indiveri23, John Paul Strachan24, Suman Datta25, Elisa Vianello26, Alexandre Valentian27, Johannes Feldmann28, Xuan Li28, Wolfram HP Pernice29, Harish Bhaskaran28, Steve Furber30, Emre Neftci31, Franz Scherr32, Wolfgang Maass33, Srikanth Ramaswamy34, Jonathan Tapson35, Priyadarshini Panda36, Youngeun Kim36, Gouhei Tanaka37, Simon Thorpe38, Chiara Bartolozzi39, Thomas A Cleland40, Christoph Posch41, Shih-Chii Liu23, Gabriella Panuccio42, Mufti Mahmud43, Arnab Neelim Mazumder44, Morteza Hosseini44, Tinoosh Mohsenin45, Elisa Donati23, Silvia Tolu46, Roberto Galeazzi47, Martin Ejsing Christensen48, Sune Holm49, Daniele Ielmini50 and Nini Pryds51. "2022 roadmap on neuromorphic computing and engineering." Neuromorphic Computing and Engineering (2022).
Nitish V. Thakor. Handbook of Neuroengineering. Springer, Singapore, 2022.